Festive Menu
Our Festive Menu runs from 1st through to the 24th December alongside our regular menu, this menu can be tailored to suit any size or budget so please call us on 01358 743249 or drop us an email on info@thecockandbull.co.uk to discuss how we can make your Xmas party a special one!
CHRISTMAS COCKTAILS          £7.50
THE GINGERBREAD vanilla vodka, Kahlua, gingerbread syrup, cream
POINSETTA Prosecco, Cointreau, cranberry juice
SANTA'S WHISKERS whisky, dry Martini, Benedictine
THE GRINCH Midori, Malibu, gin, lemonade 
ROAST BUTTERNUT SQUASH & CHESTNUT SOUP (V) WITH HOMEMADE BREAD
SCOTCH SMOKED SALMON, PRAWN MARIE ROSE
LOCAL SCOTCH GAME TERRINE WITH A BLACK PUDDING BON BON & CARAMELISED SHALLOT PUREE,
RED ONION & BRIE EN CROUTE  (v) SERVED WITH BEETROOT DRESSED SALAD
TURKEY ROULADE SERVED WITH ALL THE FESTIVE TRIMMINGS
BRAISED FEATHERBLADE OF SCOTCH BEEF ON HORSERADISH MASH, WITH KALE & JUS
BAKED HERB CRUSTED COD ACCOMPANIED BY CRUSHED POTATOES, TOMATO & ROAST PEPPER COULIS 
WILD MUSHROOM, TARRAGON AND POLENTA PITHIVIER WITH FESTIVE SALAD (V) 
FESTIVE STICKY TOFFEE PUDDING WITH VANILLA ICE CREAM & TOFFEE SAUCE
 SPICED PANNACOTTA WITH APRICOT, PEANUT BUTTER & ALMOND BRITTLE
COCK & BULL CHRISTMAS PUDDING, BRANDY BUTTER & BERRY COMPOTE
 SCOTCH CHEESE BOARD, A SELECTION OF LOCAL CHEESES WITH QUINCE & PEAR CHUTNEY ACCOMPANIED BY OATCAKES
TEA AND COFFEE WITH SHORTBREAD
3 COURSES £28.95
Available all day throughout December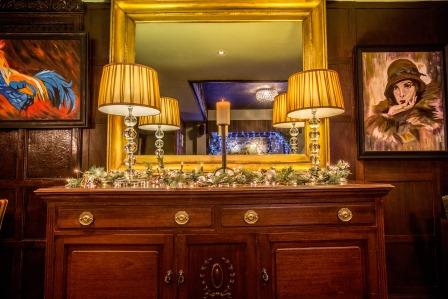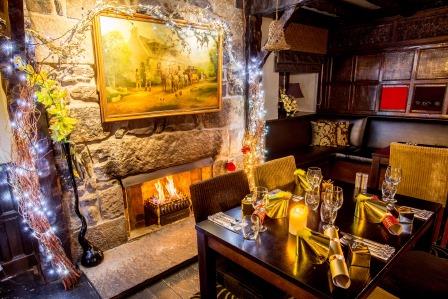 Christmas Day
Christmas Day is all the more special with family and friends and a visit from you know who.
Dine with us to enjoy delicious food, fine wine and friendly service in a welcoming and warm atmosphere.
AMUSE BOUCHE
HAGGIS BON BONS & MUSTARD MAYO
STARTERS
GAME TERRINE WITH BLACK PUDDING BON BON & CARAMELISED SHALLOTS
SMOKED SALMON & PRAWN COCKTAIIL
RED ONION & BRIE EN CROUTE (V)
INTERMEDIATE
BUTTERNUT SQUASH & TARRAGON SOUP
MAINS
TURKEY ROULADE WITH ALL THE FESTIVE TRIMMINGS
SLOW BRAISED ABERDEEN ANGUS BEEF WITH ROAST ROOT VEGETABLES AND MASHED POTATOES
WILD MUSHROOM, TARRAGON, POLENTA PITHIVIER (V)
PALATE CLEANSER
LEMON SORBET
DESSERTS
COCK & BULL CHRISTMAS PUDDING
STICKY TOFFEE PUDDING
SCOTCH CHEESE BOARD
TEA AND COFFEE WITH SHORTBREAD
£70 PER ADULT
£35 PER CHILD (click for children's menu)
All reservations for Christmas Day and group bookings require a non-refundable deposit of £10 per person at the time of booking.
Full pre-payment of the entire booking is required no later than 11th December 2017 for Christmas Day. 
No drinks included in menu prices.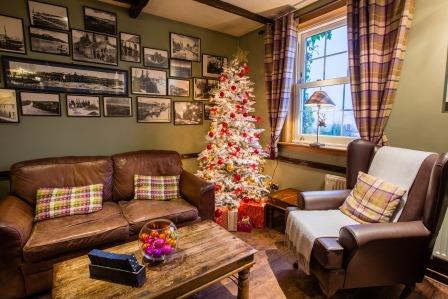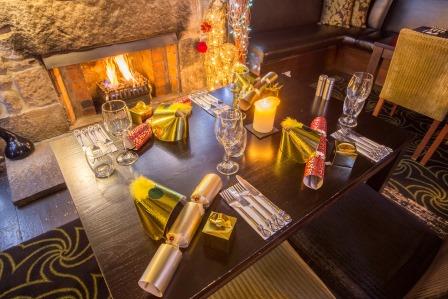 Hogmanay
Hogmanay is one of the most special nights of the year so come and celebrate here at the Cock and Bull where we have decided to do exactly as we did last year and have ourselves a party!
We will be open throughout the day but from 5pm to 2am you can join us for drinks with a prepaid entry ticket, £15 per adult and £10 per child for a disco, fireworks and complimentary drink at the bells.
If you'd like to also book a table for dinner we will be running our regular menu with chef's specials throughout the night (children's menu available).
We will be running a mini-bus to take revellers home – this is on a first-come, first-served basis.
Please note that tickets are required for entry whether booking in for dinner or just joining us for a drink
Tickets can be purchased and table reservations made via the button below – we look forward to partying with you all!
Limited spaces so call 01358 743249 to book
Address
The Cock and Bull Ellon Rd Balmedie AB23 8XY Email: info@thecockandbull.co.uk
Opening Hours
Mon to Sat: 10:00 AM - 11:00 PM
Sunday:       10:00 AM - 10:00 PM